So, a few years ago your dream car arrived on your drive and it has been your pride and joy ever since… unfortunately the time has come to return her but there is some good news and here is our guide to making the end of your contract as pain-free as possible. Don't worry if you are unsure or forget when you lease is ending because the Balgores team will send you timely reminder emails and get in touch around this time:
6 months before the end of your lease: Deciding on your next car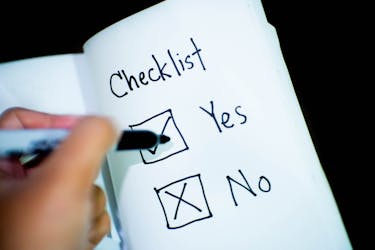 The upside to having to hand back your current car is getting to choose a shiny brand new one. Ideally you should start to consider which car you would like next around 6 months before the end of your lease. It may sound like a long time but if you have really specific requirements then it may take a bit longer than expected for the manufacturer to build the vehicle you want in the specification that you need and the last thing that you want is to be without a vehicle in between leases.
Think about your current car: are you happy with the fuel consumption? Do you need more book space? Did you have this car longer enough? Or perhaps too long?? These are all aspects that you can discuss with our knowledgeable sales team who can suggest cars based on your needs..
6 months before the end of your lease: Mileage check
All business and personal contract hire leasing agreements will have a maximum mileage amount and you may be charged a penalty for exceeding this. The good news is, in most cases, the excess mileage charge is only a few pence per mile that you go over the agreed limit. Your specific excess mileage charge per mile will be shown on your contract but do get in touch with the Balgores Leasing team for clarification, we can also advise at any point during the contract the ideal maximum number miles you should've done by that point to avoid any penalties. The majority of finance companies will allow you to increase or decrease your annual mileage so long as you contact them at least 6 months before end – of course the sooner the better and you may be able to spread (or save) the extra costs over the remaining payments.
3 months before the end of your lease: Check the condition of the vehicle
Whilst you are checking mileage, take the time at least 3 months before the end date to check the condition of your vehicle. Here are some quick tips from the BVRLA, the organisation who issue the 'Fair Wear and Tear' standards that your vehicle will be checked against:
Carry out the appraisal of the vehicle 10 – 12 weeks before the vehicle is due for return. This will allow you to arrange to have any unacceptable wear and tear rectified.
Appraise the vehicle as honestly as you can – be objective. Ask a friend or colleague to help you.
Choose a time and place with good light. This is how the leasing company will examine your vehicle. Appraisals carried out in poor light invariably miss some faults.
Before appraising the vehicle, make sure that it has been washed and is thoroughly clean but remember to allow time for it to dry. Water on the paintwork can mask faults.
Be sure to check the entire vehicle inside and out including every panel, window, mirror, lamp, tyre and nob! The finance company may charge you for any damage that they feel is more than just 'wear and tear'. Here are the full BVRLA fair wear and tear guidelines that your vehicle will be judged against: https://www.bvrla.co.uk/advice/guidance/returning-your-leased-vehicle
Many people have private number plates, which are officially known as 'cherished plates', you will need to ensure that this is removed before returning the car. This could take 6-8 weeks so don't leave it until the last minute, get in touch with Balgores Leasing if you are unsure of how to do this..
At the end of your contact: Returning your current car
We can help you make these arrangements and find a date and time that suits you. We will also factor your end date in when looking for your new car to ensure a smooth transition – just mention it to the Balgores Leasing team.
When handing the vehicle back, make sure that you include any service books or spare keys or equipment that came with the vehicle when it was delivered to you. Again, you may be charged if a set of spare keys is not returned for example.
It does vary between finance companies, but most will complete a full inspection with you when collecting the vehicle. Please make sure that you agree with the inspection results and any noted damage before signing the release document. As mentioned, you will be billed for any damage they consider outside of the BVRLA's guidelines.
Here is a checklist that we provide all customers to help them with these end-of-contract checks.
As part of our commitment to providing exceptional customer service, the team at Balgores Leasing are on hand to help and advise you at any stage of your contact. We keep in touch with our customers regularly to give them peace of mind, for example by sending out helpful regular reminders about mileage, notices about changes to regulations, emissions and taxes that will affect leasing customers etc. Get in touch with us on 01708 38 44 51 and let Balgores Leasing look after your motoring needs.