30th May 2017 by John Meadowcroft
Driverless cars may be on the horizon, but there are a lot of things drivers can be doing now to make their life on the road easier than ever before.
Thanks to the internet drivers from around the world are sharing their favourite car hacks; making small changes to the way they treat their car and highlighting things you may not have noticed to help people save time and money, including:
1: Knowing which side your fuel cap is on
An internet favourite and one which has started plenty of online wars since 2007. Autocar got suckered into the urban myth that the side the fuel pump handle on the dashboard is is where you should fuel up at the station.
Though manufacturers confirmed the pump handle rumour was false, the majority of modern models have an arrow on the fuel gauge to actually show drivers where their fuel tank is.
---
2: Declutter your car to save petrol
According to research by the RAC, every 50kg of weight in your car increases fuel consumption by approximately 2%. Having an empty rack on the roof of your car can even increase it by as much as 10%.
It stands to reason then that decluttering your boot, taking the roof rack off when not in use, removing roof bars and getting rid of additional bulk could help you get more out of your fuel.
---
3: Cooling down the inside of your car
Spring's been less than favourable, but we've been promised a blazing summer of sunshine. That can bring its own problems for drivers in the form of boiling hot steering wheels.
Motors.co.uk has a pretty ingenious method of keeping the wheel cool aside from covering the windows, though. Simply turn the steering wheel 180 degrees so all the heat collects at the bottom and keep your hands at 10-to-2 when driving.
---
4: Use toothpaste to clean your headlights
Keeping your car clean can come at a price. It's a costly business and can be time-consuming too, especially when cleaning your headlights. A quick search on Google shows us two-step headlight cleaning kits costing upwards of £30.
A tube of toothpaste can do the same job, though. Cover your headlights with toothpaste and give them a scrub and a rinse to leave them looking as good as new.
---
5: Stop rust in its tracks with nail polish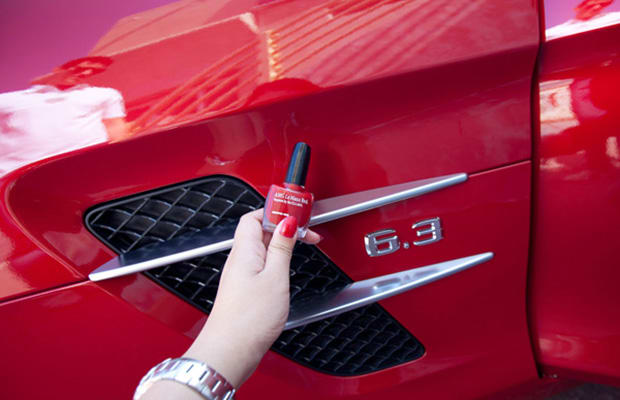 If you've got a scratch or two in your paintwork and have to wait a while until you can book it in for a new paint job, rust can start to set in and affect the bodywork if you leave it as is.
Applying nail polish to the scratch – especially if it's as close to the colour of your car as possible – not only goes some way to covering it up until you have the time or the money to get it properly fixed but will also stop the exposed bodywork from rusting.